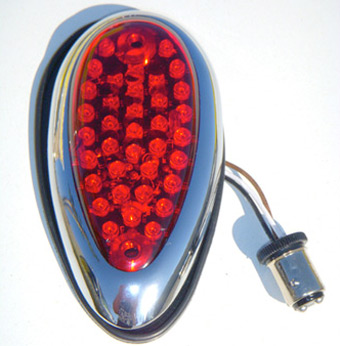 1939 Ford Teardrop Tail Lamp LED.
Stop and tail lamps in LED, just plug into the original stop tail globe holder socket. These connect to the original Ford base and screw into place of the original lense. Each unit has 39 LED's. If you wish to use them for something else they will bolt onto any flat base or surface, removing the plug if required. Available in pairs.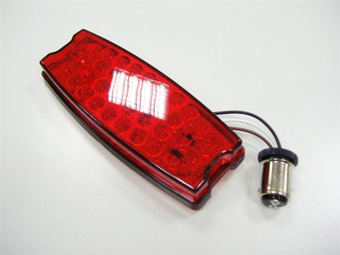 1948 Chevrolet Tail Lamp LED.
These fit up the same as the 1939 Ford Teardrops and are the same LED with the same globe plug on the back they replace the standard 1948 globe and lense. Available in pairs.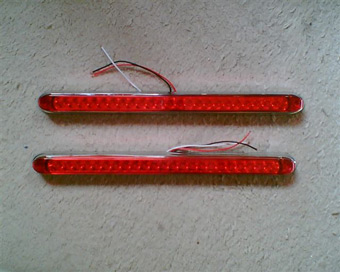 The big LED Tail light brake Light.
Measures 450mm long. 40mm wide. 30mm tall. has 23 LED's Suitable to mount in pairs or to use as a third brake light.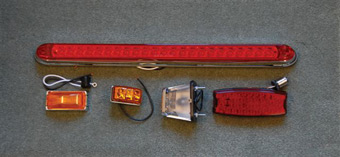 This Photo is just to give you a idea as to the size of the lights we have available.
The Big LED is shown along with the Chevrolet Lights as well as the Number plate light and the LED Indicators.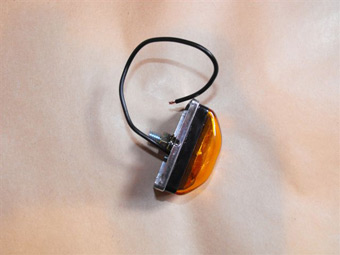 Bolt on indicator light has three directional LED's. 50mm long. 25mm wide. From bolt to top of light 40mm.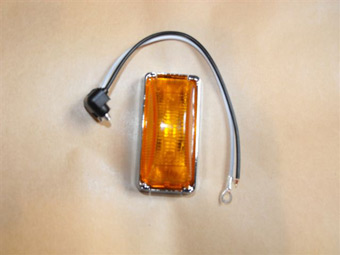 Indicator or Clearance light. Bolt on flat base and fit in LED lense with wire loom pin to fit on the back.
35mm wide. 70mm long. 30mm tall.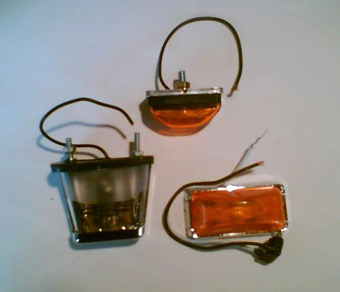 This Photo is just another to give you a idea as to the size of the lights we have available.
Number plate light, the LED Indicators or clearance lights.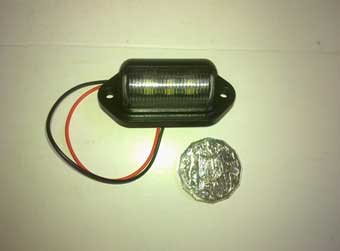 Compact Number Plate Lights.
Three Super Bright LED's are contained in these compact little lights.
50 Cent coin to give you an idea of the size. Suit 12 volt application,
fully sealed and have SAE DOT information on them as well.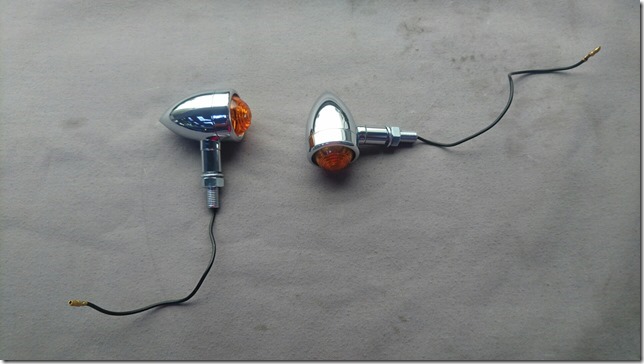 Bullet Lights.
Sold in pairs. These turn signal lights are the perfect stalk mounted light that does not look out of place on any Street Rod or Restoration. Amber lens with quality chrome finish, wired ready to accept a push on wire connector.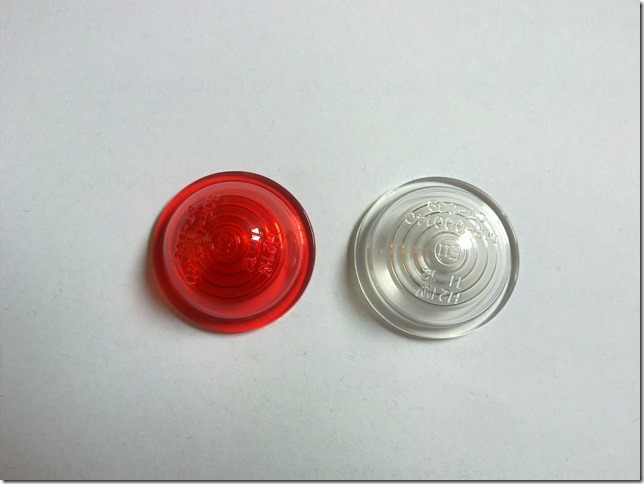 Also available to suit the Bullet lights are Red and Clear lens. These are an option when you purchase a pair of Bullet Lights allowing you to use them as park lights or tail lights. Note the lens have DOT markings.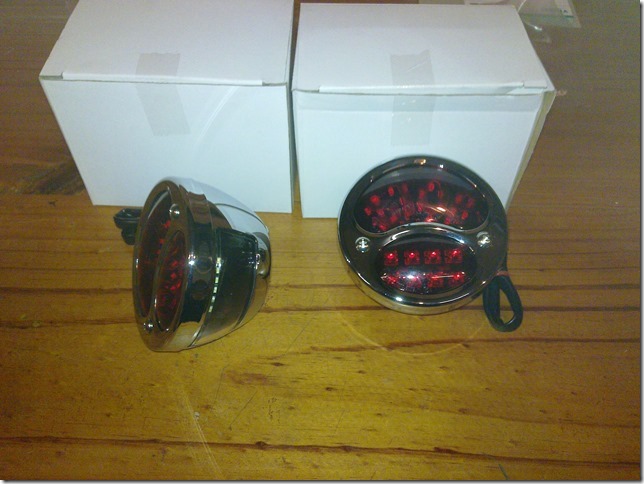 1928-1931 Lights.
These Brake Tail lights are full LED and no protruding globe fittings on the rear so a flat base to mount. They also have a number plate light and look very original until the LEDs come on. The word STOP appears when the brake light is on. They have a chrome finish and have a black earth wire, yellow tail light wire and red wire for the brake all with bullet connectors. Available in pairs.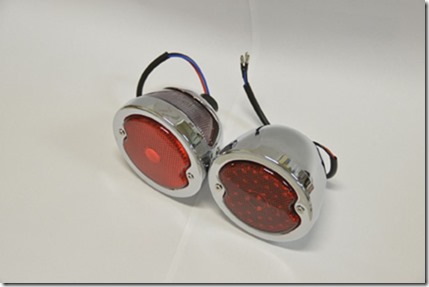 1934-1948 Lights.
We have these in both LED and Globe versions. The LED Brake Tail lights have no protruding globe fittings on the rear so a flat base to mount. The LED version has no number plate light and they look very original until the LEDs come on. The Globe version for those wanting something more original for a restored look, one of the pair in these have a number plate light, the globe version has a protrusion on the back to allow the globe to fit and not a flat base compared to the LED version. They both have a chrome finish with glass lens. Both have black, red and blue coloured wiring with bullet connectors so they are ready to bolt on. Available in pairs. The globe version with number plate light is on the left in the photo.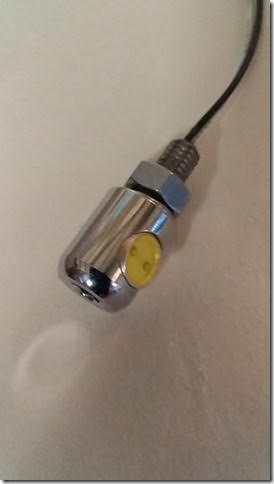 Chrome License Plate Bolt Lights
Sold as a pair these Compact LED's are suitable as lights for the number plate. They have an allen key head. White wire positive and black wire earth. They are a bright light leaving the option open for other uses like a small interior light.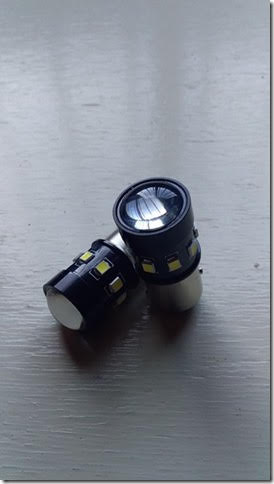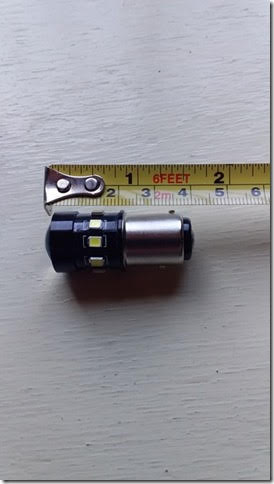 LED Super White Globes
Sold as a pair these are designed to replace the standard 1157 brake tail globes. These also work in the older style lights like 1948 Ford and and earlier. They also work with Blue Dots. They are much shorter than a standard conventional globe and many other LED versions. I was so impressed by these globes I even have a set fitted to the lights on my own T Roadster.
Trade enquiries invited to bulk buy Lights.